Spot Welding Machines Manufacturer & Exporter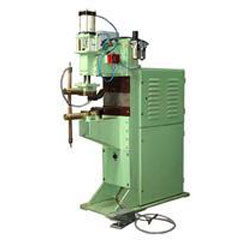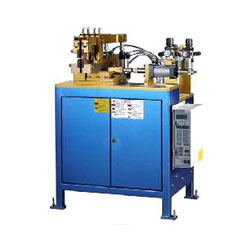 Our wide range of Spot Welding Machines that we manufacture and supply in many small and large scale industries are designed in order to complete the demand of various machine & instruments industries.
Features :
Adjustable length of arms
Chrome/Copper electrode holders for long life, designed for both straight and angled fitting
Pneumatic operated, synchronous step less current control by thyristors and synchronous timers
Adjustable electrode stroke
Epoxy coated, water-cooled transformer
Water cooled arms, electrode holders and electrodes
Synchronous SCR contactor insulated from water cooling circuit
Adjustable electrode pressure
Adjustable electrodes stroke
Water-cooled transformer, with epoxy resin coated windings
Foot control adjustable in length
Press type Spot Welders
Press type Spot Welders are designed for extra ordinary versatility and are available with different styles of welding head arrangements. These air operated welders are designed for high speed production work to meet the needs of a vast number of metal fabrication shops. Automatic feed mechanism with X-Y axis and Rotary movements with PLC could be supplied for fast production.
A variety of electrodes and toolings can be fitted to render them suitable for spot welding, simple projection welding, electro-brazing, hot riveting, electro-forging and upsetting. Fully solid state electronic controls (Microprocessor based or CMOS based) are available for using with machine in order to obtain consistent and accurate weld results on a wide range of materials at a high speed automatic operation.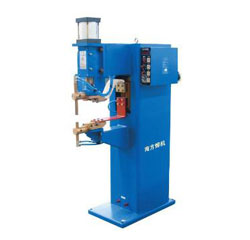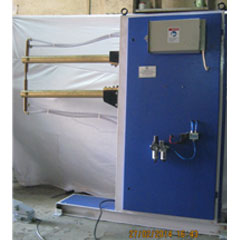 These machines are designed and manufactured conforming to the Indian Standard Specification No.IS:4804 Part I and III or as per guidelines of JISC-9303 by a team of highly experienced engineers in welding technology.
Specifications
Standard Ratings : 25, 35, 50 and 75 KVA @ 50% duty cycle.
Type : Air operated stationary press type Spot welders with pneumatic cylinder mounted directly.
Standard Throat Depths : 300, 450, 600, 750 and 900 mm (Machine with other throats also available on request).
Electrodes / Dies Toolings : One Pair of Morse Taper 2 straight Electrodes supplied as standard with the machine. Machine can be provided with custom-designed spot welding electrodes or welding dies to suit various sizes and shapes of work pieces, and suitable jigs and fixtures for holding, guiding and indexing of the work-piece as required at extra cost.
Electrode Control System: Upper electrode actuated by a heavy duty 2-way cushioned pneumatic cylinder controlled by an electrically operated 4-way solenoid valve. Compressed air at 1.5 Kg/cm.sq. - 5.6 kg/cm.sq. (20 to 80 psi) acting on the pneumatic cylinder provides electrode force. Machine provided with air filter, air lubricator, air pressure regulating valve, air pressure gauge.
High Lift Facility (Optional at Extra Cost) : "High Lift" (retractable upper electrode) facility shall be provided by means of special cylinder. A hard/foot operated air valve causes the upper electrode to lift to the top most position for easy introduction of the job into the throat of the machine.
Dual Pressure System (Optional at Extra Cost) : Dual pressure system shall be provided by means of two sets' of regulating and controlling devices and the necessary air circuits. Working in conjunction with special control units, this facility would enable application of a higher force on the job being welded at any point during the weld cycle.
Controls : Appropriate Control will be incorporated with the machine as per requirement.