The main central core is covered by neoprene rubber carbon free hose, which is again asbestos/ceramic glass insulated to withstand high temperature, as faced in these critical areas. The cable is end socket by forged electrolytic grade 99.9% purity copper lugs available as per site application.
Electrolatic grade copper conductor for low Power Loss.
Copper conductor of 99.9% conductivity.
End connection of lead free brass, this gives long last.
All M/C parts made from lathe and milling machines ensure zero error.
Good quality of carbon free rubber hose.
Proper crimping of conductor by high pressure hydraulic press.
Stainless steel heavy duty hose clamp at hose end.
Hydro tested cable.
We undertake repairing of cable also.
Manufacturing cable using our engineering expertise.
Best price in INDIA.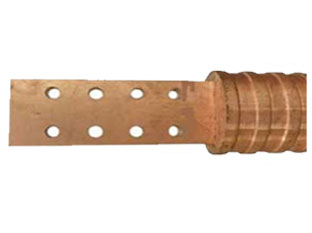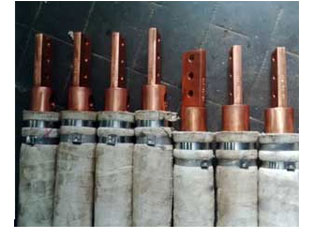 Exclusive design and construction of high current water cooled power cables resulting in longer life, greater flexibility and increased water flow at reduced pressures. Our water cooled coaxial cables are designed and fabricated to provide the lowest possible inductive reactance of any secondary flexible connector available.
We provide water cooled cables in a standard construction rope lay design and an exclusive concentric construction design.We offers several hose cover options that include abrasion protection covers, splash covers and thermal protection covers. Additional options available include various terminal designs. Our water cooled cable sizes range from small jumpers for resistance welding applications up to 20,0000 MCM cables that are used in electric steel making furnaces.
All our flexible power cables are designed and assembled to customer specifications for maximum power and reliability applications that demand a robust cable construction needed for maximum efficiency and long cable life.
CUSTOMIZABLE INDUSTRIAL HOSE OPTIONS
Custom Industrial Hose and Tubing Sizes
| | |
| --- | --- |
| Hose ID | Lengths |
| 3/8"to 12" | Up to 50ft |
| 4"to 24" | Upto 24ft |
| 6"to 40" | >Upto 20ft |
AVAILABLE HOSE MATERIAL OPTIONS
Pure Gum Rubber
SBR (Styrene Butadiene) Rubber
Neoprene
Viton®
ChloroButyl
Hypalon
Nitrile
Silicone Food and Drug Administration (FDA) food grades are also available
ADDITIONAL HOSE FEATURES
Enlarged Ends - Hose end enlargement to accommodate fitting
Soft Cuffs - Reinforcement removed from end of hose to create a leak proof seal when clamped
Straight - Hose end cut straight with no end connection
Rubber Lined - Adds abrasion resistance and extended lift
Built In Fixed/Floating Flanges - Built in, expanded; 150-300 pound ANSI forged
Built In Nipple - Built into hose during fabrication to provide the most holding power and full flow unrestricted transition area
Cover Style - Smooth or corrugated designs for flexible applications
Electrical Conductivity Compounds - Materials designed to meet your electrical requirements
Heat Resistance Compounds - Available compounds that provide outstanding thermal protection
Oil Resistance - RMA tube compounds